When expertly employed, a database is a powerful tool. Because I understood how to unleash the power of information, I became the top salesperson for a Swiss capital equipment manufacturer.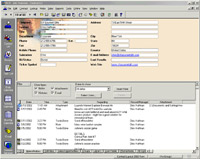 ACT! Contact Manager
Early on, I learned top-level executives aren't interested in being my departmental secretaries, opening, reading and forwarding my e-mails, faxes and mail. These execs were willing, however, to give me the names of the people in their organization who made purchase decisions. These one-on-one contacts ensured the quality of the database.
Before I knew it, I had developed a database containing profiles of more than a thousand industry luminaries. Applying database marketing and solution selling techniques, I disseminated valuable information to them using Always-on Marketing®.
With the help of my database, I quickly identified those with whom I should build relationships.
Within a few months, I was the top salesperson, closing multiple million-dollar deals (with some very demanding customers and despite a 40% premium). I sold the largest machine in North America, the first machine to General Motors and CMI, the only machine to mass-produce auto parts for Toyota in the USA, and the first prototype project (exceeding $100,000) to test proof-of-concept.

My eCRM
To remain competitive, leadership must understand...
Databases
CRM (Customer Relationship Management)
SFA (Sales Force Automation)
Databases permit CEOs to accelerate business decisions by spending more time analyzing data and less time collecting it.
NetSuite's Dashboard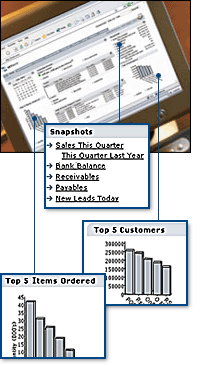 I've created an eCRM system called APSSTM (and filed for a patent). Because I understand how to use information, I can demonstrate the best way to apply SFA and Always-on Marketing®, integrating the Web, e-mail and fax.
Other eCRM systems I've used include Web-based NetSuite, which was developed by Larry Ellison of Oracle. NetSuite's Dashboard provides real-time data from all areas of business—accounting, sales, fulfillment and support (e.g., new sales orders, commissions, support cases, accounts receivable and shipping items).
In addition, I integrate databases with the Internet and Wireless Web. I create custom online databases that are self-administering and offer real-time reporting. Wireless Web integration is my specialty. I can give you the power to access your information 24/7, while you are in or out of the office—all in the "Palm" of your hand!