Advisory Boards
Advisor, coach and committee member
With twenty years of business and marketing experience, I advise and coach executives, business owners and entrepreneurs about Always-on Marketing®.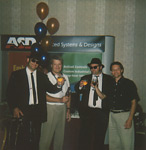 David with Paul
I combine the art of solution-selling with the science of technology—generating results few people can match. I've consulted for hundreds of people and had tenure with IBM, NEC, Cisco, ABB, Boyne USA Resorts, Grand Traverse Resort, Holiday Inn, Las Vegas Golf and Tennis, Shell Oil and others. Recent engagements include assisting NEC with incubating a start-up company in Silicon Valley, pioneering rich-media e-mail marketing and advising Boomerang Mobile Media on wireless mobile marketing.
In order to maximize clients' sales performance, I effectively unite offline and online selling strategies—targeting B to C and B to B—in high-tech, manufacturing, automotive, travel, hospitality, insurance and other industries.
Located in Ann Arbor, Michigan, I work with clients around the globe, making their vision a reality. I invite you to explore my online cv and learn why making me a member of your team will positively impact your bottom line.
See Firsthand
My Advisory skills in action:
Moderator, New Enterprise Forum (NEF)

10 Steps to Landing Your First Customer. Speakers included:

- Donna Gent, President, Vale Solutions

- Michael McCorquodale, CTO, Mobius Microsystems

- Rich Sheridan, President, Menlo Innovations

Advisor to Marketing Director, Maples of Novi

Worked with David Botsford to create a plan for uncovering new markets for its 900-unit condominium development. I developed and executed a multi-cultural marketing strategy, targeting Japanese living in Michigan. View TV interview »

Coach to President, Advanced Systems & Designs

Working with Paul Mychalowych to implement hybrid selling strategies. Created new brand identity "SPCanywhere.com" and redesigned Website. Developed an automated Always-on Marketing® five-tactic e-mail campaign engine for nurturing relationships (still running after three years, it eliminates 20,000 pieces of direct mail annually). Implemented strategy for improving channel partner sales and media relations. Created 20-page, print-on-demand, color catalog. Interested in learning more --> ASD highlights

Advisor to Chairman, Center for Simplified Strategic Planning

Developed innovative marketing strategies for Charles Bradford, promoting seminars, consulting services and books around the country. Integrated e-mail, direct mail with the Web and created online viral marketing strategy.

Advisor to Principal, Eyde Company

Appointed by George Eyde to research and identify Michigan's leading commercial real estate brokers with whom he should establish personal relationships. I then set up meetings with selected brokers. Also, I identified new prospecting techniques for uncovering potential vacant-land investments.

Advisor to President, ELM International

Provided Marc Santucci with marketing strategies for developing and launching eAutoPortal.com. I've been coaching Marc for nearly a decade, helping him to better understand both offline and online marketing opportunities.

Co-chair (pro bono), Humane Society of Huron Valley

Co-chaired two committees—Marketing and Fund Raising. I secured donations from companies including Standard Federal Bank, Office Depot, Discount Tire, Xpedx and many others. As a result of the team's efforts, we exceeded goals and broke records.

Advisor to President, Corsa Instruments

Erik, President of Corsa Instruments writes, "For the first time in five years I handed out profit sharing checks. Much of our company's recent success is attributed to employing David's marketing strategies."