iPrinter Success Story
eMarketing for iPrinter
Objectives
NEC Technologies in San Jose asked me to promote its new color Internet printer by integrating online approaches with traditional offline tactics. NEC's goal was to measure effectiveness of online and offline promotions, increase brand awareness, educate visitors about the iPrinter, employ viral marketing and generate leads.
Campaign Model and Strategy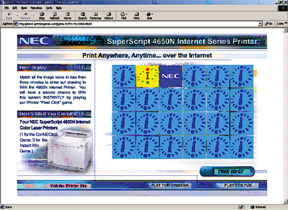 I worked with Auraline, a division of NEC, to create an animated Flash game offering a chance to win a free iPrinter. To drive traffic to the game, advertisements in magazines such as Wired displayed unique URLs such as iPrintergames.com. In addition, e-mail was incorporated in the marketing mix.
The game reinforced branding by pairing images such as company logos, awards and text, hidden under sliding blue tiles. When contestants sent e-mail to friends inviting them to play, they were given a second chance to become instant winners—greatly re-enforcing the viral marketing effect. Each visitor's activity was tracked and stored in an online database along with detailed information provided by each player.
Reporting was available through any browser, 24/7. The game was linked to a micro Website, allowing visitors to learn more about NEC or purchase printers online. You're invited to play the game or view the postcard that was used to promote the game. Please visit my Internet marketing to learn more.
Success
Stories:
Need
Help?