Read My Fax Blog
770+ Friends


Hook up with David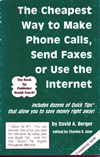 Telecom Expert
Since 1995
---
David,
Thanks for y'alls help. Our brief chat over the phone helped me a lot. It all works like a dream. I'll spread the word about your insightful Internet Faxing Guide
— Graham S.
---
David,
Great Internet faxing site. It's an amazing amount of work.
— Mike B.
---
David,
Thanks so much for doing this fax comparison. It saved me a lot of time and headache in looking for a fax service.
— Paul B.
---
David,
Very informative fax reviews. Thanks for taking the time to share your insights with us.
— James
---
Dave,
Your fax guide is outstanding. It offers much more detail than other fax review sites.
— Tim
---
David,
I read your insightful fax guide and loved it. Thank you so much!
— John
---
Dave,
I needed to fax TODAY and your recommendations saved me a lot of effort and grief. I got the maxemail free trial and was faxing in a flash. Thanks!
— Jim
---
Dave,
was pleasantly surprised you were available to answer my questions when I called! You saved the day by helping me make an informed decision about email faxing.
— Caron R.
---
David,
I have a small business that is switching to an e-fax service. Your site saved me hours of comparison. Thank you!
— Sam R.
---
Dave,
Thanks for your insightful website. I signed up for a newly discovered email fax service based on your recommendation.
— Marci
---
David,
Your email fax guide is the best! Thank you.
— Lisa
---
Dave,
I needed to send a fax while in an emergency. Clean, simple and free. Thanks,
— Pete
---
Dave,
Your Fax Guide is great! I just started my research on efaxing and your guide answered all my questions.
— Clif
---
David,
Your Internet Fax Services Guide is truly outstanding, and I thank you!
— John
---
Dave,
Many thanks for a job well-done. Full mark for your highly appreciated research on faxing via the Internet. Best wishes of continued success.
— Hassan
---
Thanks Dave,
I'm trying to save money, your email fax reviews are super helpful.
— Craig
---
Thank you Dave!
This is exactly the info I needed!
— Nicole S.
---
Thanks Dave,
Your quick reviews helped me make a decision in under 10 minutes.
— Kel
---
Dave,
I found your reviews very helpful. Thanks for sharing.
— Laura M.
---
David,
Thank you so much for your faxing site. You saved me hours!
— Gail
---
David,
Thanks for helping me send a fax so easily!
— Ted
---
Dave,
Thank you so much. Your site allowed me to send an important fax at 11pm.
— Lynn B.
---
Dave,
I found your Internet fax review site most useful, thanks!
— Nic Van W.
---
Dave,
I found your Email Fax Reviews very helpful.
— John M.
---
Dave,
Thanks for the email fax info!
— David
---
David,
Thanks for a wonderful site!
— Scott W.
---
Dave,
Thanks, again!
— Joe G.
---
David,
Thank You!
— Nona P.
---
Dave,
Much thanks! Looked all over internet for fax info -- just found ads and crap -- until I found you. Will send out your info on Twitter.
— Jacqueline
---
Dave,
Much appreciated. Thank you.
— Adam S.
---
David,
Very interesting information! Thanks.
— Mike L.
---
David,
Thank you for the depth of your help and your courtesy.
— Bob
---
David,
Thank you for your service. I use fax seldom but sometimes.
— Micheal H.
---
Hi Dave,
Thank you very much for the free fax service. I just sent a fax.
— Jamal M.
---
Hi David,
Thank you for your reply, and your quickness.
— Peter C.
---
Dave,
I found your email fax reviews a big help! Thanks.
— Alan G.
---
David,
I used to think I'm quite 'Deal' savvy, but after reading your guide to free and cheap faxing, I am humbled and in awe.
— Subi M.
---
David,
Love your online fax review site and your up-front honesty.
— Richard T.
---
Dave,
Your Website really helped me with faxing over internet.
— Arjun M.
---
Dave,
I don't often experience such personable service via the web. Thank you so much.
— Ervan B.
---
David,
I appreciate your helping me. You've gone above and beyond to answer my fax email questions.
— Kip H.
---
Dave,
Thanks for the great site and wonderful online fax reviews.
— Larry W.
---
David,
Many thanks, keep up the good work.
— Glenn T.
---
David,
Thanks for assembling your email fax reviews; they reduced my search time considerably.
— Bob M.
---
Dave,
I really love your email fax reviews.
— Eileen L.
---
Dave,
Thanks! I just sent a fax from france to japan.
— Sicco B.
---
David,
Thank you so much. Your Internet fax reviews are very helpful!
— Barb M.
---
Dave,
I used MaxEmail and it worked out just great. Again - Thank you!
— Chet
---
Dave,
Thanks for good fax info... I'm a realtor trying to eliminate the cost of my fax number at home.
— Mary H.
---
David,
A note to say thank you. As a new business seeking cost effectiveness, your fax email reviews are invaluable.
— Victoria R.
---
David,
Your fax email reviews are great.
— Valintino G.
---
Dave,
Your Internet fax reviews are very helpful!
— C. Gerald
---
David,
Wow, just what I was looking for, thanks!
— Therese C.
---
Dave,
The information compiled in your email fax reviews are phenomenal!
— Tara O.
---
David,
Thanks so much!
— Joana V.
---
Dave,
Thanks for putting together these email fax reviews. You made my life much easier.
— Trish B.
---
David,
Thank you so much! Your Webpage was very instrumental in helping my email fax service decision!
— Beverly D.
---
Dave,
Thanks for your reply. I really like your Website, great faxing info.
— Sait A.
---
David,
Your email faxing reviews are very helpful.
— Louis N.
---
Have a question?
dave@a2.com
Fax User Guides
Case Studies
Canceling Service
Helping People Save Money Since 1995
As can see from the video, my Internet fax blog is the product of 20 years' telecom experience and writing a best-selling book. To make it easy for you to select the right fax service for your own needs, I've combined "fax user ratings" from multiple sources and review the fax companies with an "A+" Better Business Bureau rating. My blog covers all of the following online faxing topics:

BBB Alerts & Ratings

iPhone & Google App Ratings

User Ratings

Fax Reviews & Comparisons
J2 Cloud Service News

January 18, 2015— BBB reports that J2 Could Services has recovered its "A+" rating (418 closed complaints).
December 7, 1011 — j2 Global Communications changed its name to J2 Cloud Services. J2 acquisitions include: eFax, MyFax, SmartFax, Metrofax, jFax, jConnect, Venali, Callwave, FaxWave, Send2Fax, Rapidfax, Trustfax, Mijanda, Fax.com, FaxMicro and Packetel.
API Problems: It's been reported that shortly after MetroFax and MyFax were acquired by J2, APIs stopped working. If you need immediate help with API support, please call me at 800-862-4242.

RingCentral News

October 20, 2014 — RingCentral discontinued its two specials: $6.59 (500 pages) and $7.11 (700 pages). It now costs $9.99 month to month for the 500-page plan. By paying $95.88 annually, the price drops to $7.99.
RingCentral introduced a 10,000 page business plan at $49.99 a month which you my order by calling Corporate Sales at (800) 591-4049.

$7.99 Plan May Cost You $95.88

Two popular "Review Sites" Top10Reviews, owned by Purch, Inc. an American online publishing company, and Israel-based Natural Intelligence which owns Top10BestOnlineFax list the price for prepaying annually rather than the price for paying month-to-month. In other words, you must pay for an entire year; otherwise, the actual price you'll pay is significantly higher. Here's what I mean:
RingCentral costs $9.99 month to month for 500 pages not $7.99*; however, if you don't follow the "*" and read the fine print at the bottom of the page, your credit card will be charged $95.88 for an annual plan by default. That would be an unwelcome surprise, don't you think?

Unverified Customer Reviews

September 20, 2014 — To confirm the legitimacy of the high number of "customer votes" found on Top10BestOnlineFax.com, I contacted three fax services reviewed on its site. Not surprising, I was told that none of the 12,000+ votes nor any reviews written by so-called real customers could be verified. Did you know Top10BestOnlineFax.com is owned by Natural Intelligence based in Israel?

Confusing and Convoluted Information

Until late fall 2014, Top10BestOnlineFax was promoting 1,000 pages at $2.99 a month through OnlineFaxes.com, when it clearly had no such offer.
My recent research uncovered these facts: OnlineFaxes offers 500 pages at $7.99 month to month (see link to pricing page below). And if you want a toll-free fax number, it will cost you an extra $1.00, bringing the cost to a whopping $8.99 month to month. This price is a far cry from the $2.99 customers are expecting to pay by reading Top10BestOnlineFax.com's editorial review. Moreover, after I made consumers aware of Top10BestOnlineFax.com's 1,000-page typo, it was finally changed to 500 pages. Until late fall of 2014, Top10BestOnlineFax.com was pushing consumers to sign up for a $2.99 plan that really cost $19.99.

ResellFax Brands: To Good to be True

Manila-based ResellFax, which owns Top10OnlineFaxServices.com, ranks its own brands in the top three positions — OnlineFaxes, Fax87, FaxVision. But here are a few comments the public is voicing:
Fax87, a ResellFax brand, offers an unbelievable 1,000 pages at $4.99; however, since June 22, 2012 the BBB recognized a pattern of complaints from consumers regarding billing and service issues with Fax87. Consumers claim after signing up for services with Fax87 and making a payment, the company does not follow through with its services. Consumers further allege after cancelling their service, the company continues to charge monthly fees without authorization. FYI, Fax87 acquired WiredFax in 2013 and then it was taken over by ResellFax a short time later. Fax87's C- rating continues to fall. -read BBB report.
OnlineFaxes is advertising 500 pages for $2.99 (view screen shot); however, its pricing page lists the price at $7.99 month to month or $4.99 when paying $59.88 a year. It also charges $1.00 extra for toll-free numbers. So what is the true price consumers have to pay? -view pricing page.
In any case, OnlineFaxes does offer a basic plan at $35.88 annually advertised as a $2.99 monthly plan (which is really $5.99 month to month). I'm confused about "No Tricks, Gimmicks, Commitments, or Contracts. Ever!" Isn't paying annually a one-year contract?
ResellerRatings, a third-party rating site, gives OnlineFaxes only 1 star. Read recent posting "My recommendation, if you do any sort of faxes save the disaster and pick another service."

Reliablity in Question: T.38 FoIP

T.38 FoIP's Reliablity "The issues surrounding IP-based fax in general and the use of T.38 make it difficult for users to determine if T.38 can or will work reliably and thus offer an alternative to traditional TDM-based fax transport." -read FoIP Task Group's Report

A Message From David Berger

If you've learned something valuable by reading my blog, please let others know you like it by clicking on

g

+1 or sharing it on social media.
"David, I appreciate the time you spent with me on the telephone and the HIPAA information you shared with me. You're a tremendous resource!" - Van Ta, LifeBridge Health
"David, Thanks for your patience while walking me through this technology. You are such a blessing! It's like having a business partner." - April, Pathways
Simply Use Email to Send & Receive Faxes
No Mobile App Needed!
---
How Does Internet Fax & Email Fax Work?
How Internet Fax & Email Fax Work:
Send & receive faxes via the Web or email, using a desktop, laptop, tablet, iPhone, Android or BlackBerry
All faxes are stored online and may be easily searched, viewed, organizeed, printed or forwarded
Sending a fax by email works like this 7345551212@faxcompany.com, it's that simple
Incoming faxes are automatically converted to email and arrive as attachments
Keep existing fax number or be assigned a new local or toll-free fax number
Always on and never busy, receive faxes 365 days/year, 24 hours/day
Visit Wikipedia for more information about Internet fax
Case Studies: Insurance · Mortgage · Real Estate · Utilities · Education · Health Care · Secure Faxing