Co-op Advertising
Uncovering Co-op Marketing Dollars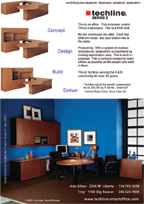 How certain are you there's no co-op money available to help pay for your marketing initiatives?
I've secured thousands of dollars in co-op money over the years—the largest amount was $25,000. It's not difficult to get the money, if you know how to play the game.
Every day, companies dump money into poorly designed and executed marketing initiatives, generating little reward. One thing I've learned during my career is CEOs are always interested in finding ways to do things better, faster and cheaper—especially when it comes to marketing. My Always-on Marketing® strategy is a sure winner; together, you and I will use it to gain your share of the co-op money.
With my help, you'll cash in on this virtually untapped well of money. Please read the success stories below, describing how I've helped people just like you.
See Firsthand
My Co-op Advertising skills in action:
Jeff Hipchen, President of Digital Data Systems, asked me to secure co-op marketing and advertising funds from SBC. He needed someone to develop a strategic marketing plan SBC would support. Within a short time, I submitted my marketing plan and SBC committed $25,000 in co-op marketing money.
George M., President of MBS, brought me in to work with Cisco Systems to develop and implement Always-on Marketing®, targeting 100 strategic accounts. The campaign included tele-marketing, fax and direct mail. The initiative was a success, generating a 15% response rate. We were able to secure Cisco's Joint Co-op Marketing Funds, which paid 50% of the costs.

This program was so successful, we went to 3Com and Computer Associates and struck similar co-op marketing and advertising deals.

One day, I was shopping for office furniture. My journey led me to a local Techline dealer where I met Tom, the owner. He and I shared our concerns about the economy. He was convinced nothing could be done to increase his business and, anyway, he lacked the resources for any marketing initiatives.

As a marketing consultant, I suggested he investigate whether co-op marketing and advertising funding was available from his suppliers. A week later we meet with a factory representative and presented our marketing proposal. It was accepted.

I designed this four-color print advertisement (14" x 10.5"), which was placed in Crain's Detroit Business, Book of Lists. Perhaps, I can uncover co-op marketing and advertising funding for you...
Learn More
Additional material you may wish to read:
Success
Stories:
Need
Help?