Print Advertising
Effective print advertising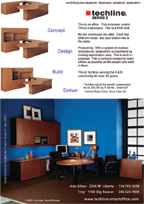 One day, I was shopping for office furniture. My journey led me to a local Techline dealer where I met Tom, the owner. He and I shared our concerns about the economy. He was convinced nothing could be done to increase his business and that he lacked the resources for any marketing initiatives.
As a marketing consultant, I suggested he investigate whether co-op funding was available from his suppliers. A week later we meet with a factory representative and presented our marketing proposal. It was accepted.
I designed this four-color print advertisement (14" x 10.5"), which was placed in Crain's Detroit Business, Book of Lists. Perhaps, I can uncover co-op funding for you...
See Firsthand
My Print Advertising skills in action:
Learn More
Additional material you may wish to read:
Success
Stories:
Need
Help?