Digital Branding
It's all in the domain name
Because the Internet offers the best opportunities for Always-on Marketing® and building a digital brand, companies without a solid strategy will be left behind.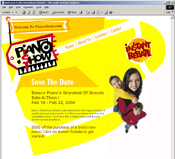 PianoShow.com
Integrating offline elements with the Internet is key to building a digital brand. It may seem to many CEOs that offline integration is relatively easy to accomplish by simply putting their existing URL in a print, TV or radio ad. On the contrary, it takes a great deal of expertise to determine what online strategy will best support offline efforts.
It's absolutely neccessary to use an easy-to-remember domain name when developing a digital brand. For example, one of my clients wanted to take his awkward offline brand "ASDSPC1" and apply it to an online strategy. After careful reflection, I recommended he use SPCAnywhere.com, which became very successful. Other digital brands I uncovered for clients include iPrinter-Games.com, A2Broadband.com, YourSmartOffice.com and InstaLine.com.
I'm offering these digital brands for sale:
A2.com

A2Marketing.com
AlwaysOnMarketing.com
HybridDM.com
A2Team.com
HelpMePublish.com

DatabaseXpress.com
DatabaseExpress.com
A2Wireless.com
A2Wap.com
UltraUSB.com
Online marketing is tricky, and it's getting harder to understand and harness its true branding potential. As online marketing continues to evolve into wireless, e-mail and viral marketing, brands need to be closely integrated with all formats.
All these factors work in conjunction with one another and share a similar brand tone and personality, with cohesive messaging and high-quality content for every contact with the customer. The digital brand thus attempts to move marketing from one-to-many to one-on-one. When companies get it right, the results are spectacular as you will read below...
See Firsthand
My Digital Branding skills in action:
NEC Technologies in San Jose asked me to promote its new color Internet printer by integrating online approaches with traditional offline tactics. NEC's goal was to measure effectiveness of online and offline promotions, increase brand awareness, educate visitors about the iPrinter, employ viral marketing and generate leads. More »
Biasco Pianos of Chicago asked me to create a strategy for integrating its Website, direct mail, newspaper, TV and radio media plans. More »
Learn More
Additional material you may wish to read:
Success
Stories:
Need
Help?